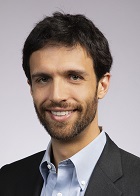 David M. Kaplan
Associate Professor, Economics
University of Missouri
kaplandm@missouri.edu
Office: moving buildings soon
Open-Source Textbook
Introductory Econometrics:
Description, Prediction, and Causality
License: CC BY-NC-SA 4.0
Digital: Introductory Econometrics (.pdf)
Print: order through the Mizzou Store

Or print your own (but beware it may be more expensive; Mizzou Store price is $11.95/297pp = $0.04/page): PDF with crop marks + cover

Source:
Some student comments:

"I really enjoyed your class, material and overall structure of the course. I found the material to be challenging, but extremely interesting...I feel this class has shed light on how challenging the world of econometrics can be with the variability in our real world and fitting that real world into models."
"I wanted to take a minute to thank you for making this fall an incredible learning experience. It was very challenging but in a positive way. This course and your teaching have deepened my interest in Economics as a field of study and confirmed my choice to pursue an advanced degree."
"This was one of the best courses I ever had."
Open-Source Textbook
Distributional and Nonparametric Econometrics